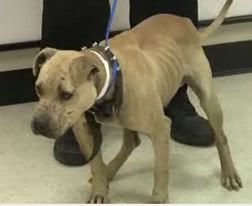 While the
largest dog fighting raid in history
has received well-deserved national attention, including coverage in
TIME magazine
, the death of seven of 12 confiscated dogs went practically unnoticed in Tuscaloosa, Alabama.
The dogs were rescued in November from the property of Ruben Hedgemon,
all in varying degrees of ill-health
, all tied down with large logging chains.
Flash forward - seven of the dogs were killed. Not because they hadn't recuperated physically. Not because they were human aggressive. Because they were dog aggressive.
The only news story to cover this case
makes a point to mention four of the five who were spared the needle are "mixed breeds" but, hey, one's a "pure" whatever.
Things have gotten better - ten years ago, not even the five remaining dogs would have been spared. But people are still screwing these dogs over at every turn - failed by their breeder, owner, shelter, society. The dog pictured is dead, even though she exhibited extreme human friendliness during a stressful and inappropriate parade in front of media immediately after her rescue. That indignity was repaid with death.
Don't misconstrue my reaction as an aversion to euthanasia. I fully understand there is a reality outside of my own heartfelt desire to see every dog in a home or appropriate sanctuary. There are bills to be paid, animals to feed, kennels to clean, and a struggle to find even the most adoptable animals homes. Few people are jumping at the opportunity to adopt a happy-go-lucky pit bull, let alone a battle-scarred one.
Still, I can only feel the wrongness of killing healthy animals who's only crime is that they have various levels of dog intolerance. By that logic, 75% of the dogs I know, most of whom are not American Pit Bull Terriers, should have been killed a long time ago.