Please do your due diligence in researching each organization.
Charity Navigator
Charitywatch list of relief organizations helping in Haiti
Better Business Bureau
website
.
Relief Efforts for People (Photo by: Gerald Herbert)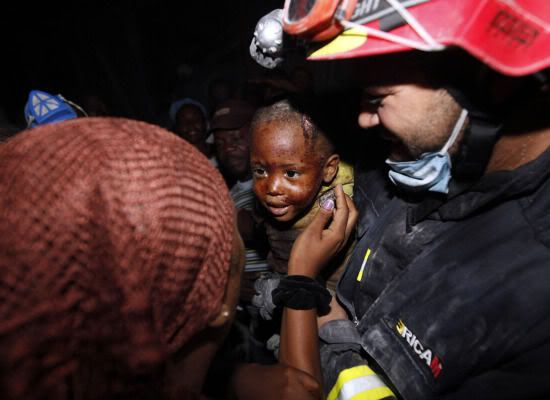 Doctors Without Borders
Read about their efforts
here
. As of 1/14/10,
they are asking donors
to give through an unrestricted account so that the nonprofit can continue to function and assist in ALL areas of the world as well as provide on-the-ground care in Haiti.
Food for Life Global
Provides vegetarian and vegan meals to impoverished people. As of 1/16/10, they are currently on the ground in the Domincan Republic and expect to start delivering food to Haitians next week.
Direct Relief International
As of 1/15, they are airlifting 13 pallets of medications
and medical supplies to Port-Au-Prince Health. You can text Give10 to 20222 to donate $10 via your mobile phone. So far they have sent $2 million in direct relief aid via FedEx.
Yele Haiti
1/16,
allegations
that Yele Haiti have possibly mismanaged funds in the past. They've raised about $1.5 million as of 1/15. You can text YELE to 501501 to donate $5.
Haiti Emergency Relief Fund
No word on specific relief efforts
Unicef
1/15:
UNICEF
is joining with the UN and calling on the global community to raise $562 million; UNICEF is trying to raise $120 million.They have been on the ground providing aid.
Partners in Health
and
donation form
With doctors already in Haiti when the earthquake hit, PIH has been able to provide some basic on-the-ground care since the quake. They say fuel is a huge problem soaring to $25/gallon. They have a water truck on the way. They are in desperate need of surgical supplies and doctors. They have 30 volunteers arriving 1/16.
Save the Children
donation page
They have been in Haiti for 25 years. Text SAVE to 20222 and donate $10. Currently, they are working specifically to help children and reunite them with relatives, many of whom have been tragically killed.
WorldVision
and its
donation form
Also on the ground, their headquarters suffered major damage during the quake. They have been doing all they can to provide assistance to those affected.
ActionAid
and its
donation page
1/16,
ActionAid
relief team will be arriving 1/17, Sunday. Another on the ground group, ActionAid has been in Haiti for about twelve years - unfortunately as many as 20 of their 25 staff were affected by the quake. As of 1/13, ActionAid has sent an emergency response team to Haiti.
Oxfam
and its
press release for donations
1/15, Oxfam is providing supplies to assist in clean-up and working on getting potable water available. They will be coordinating international aid groups on water and sanitation. They had a team already on the ground prior to the quake and lost one OxFam employee. (If you are vegan, please note that Oxfam does have animal donation programs).
Red Cross
donation form
(You can read their
wikipedia article
for more information, see Sept 11 controversy.)
As of 1/15, there are 12 teams of relief workers on the ground. They have raised $37 million so far.
Artists for Peace and Justice
They've been in Haiti for years and lost a lot of their friends and family b/c of the quake.
After the primary response is over and rebuilding needs to occur:
FINCA
is helping microfinance banks for women in Haiti
Architecture for Humanity
is looking for donations in assisting with the rebuilding process
As of 1/13, they have raised $45,000 for rebuilding. They plan on working with other NGOs to assist in the recovery efforts.
Relief Efforts for Animals
SODOPRECA
(site in Spanish)
WSPA
As of 1/14, WSPA has joined forces with the International Fund for Animals (IFAW) and other animal welfare organizations and created the Animal Relief Coalition for Haiti (ARCH) and will head over to Haiti when it is appropriate to do so.
The
Christian Veterinary Mission
As obvious by their name, they are a religious organization.As of 1/16, they have been on the ground assisting people in the recovery effort.
The
International Fund for Animals (IFAW)
will be on hand to assist animals after immediate assistance is well under way.
Mail:
American Red Cross, P.O. Box 37243, Washington, D.C. 20013

US Fund for UNICEF, 125 Maiden Lane, New York, NY 10038
Doctors Without Borders USA, P.O. Box 5030, Hagerstown, MD 21741-5030
Partners In Health, P.O. Box 845578, Boston, MA 02284-5578

Phone:
Donations to the International Response Fund - 1-800-REDCROSS or 1-800-257-7575 (Spanish)
Unicef - 1.800.FOR.KIDS (1.800.367.5437)
Doctors Without Borders - 1-888-392-0392
Haiti is a horribly impoverished part of the world, even more so than its sister, adjacent Dominica.To have such a tragedy of this magnitude affect the country is devastating.
Please help. Remember, no donation is too small. Even if money is tight, surely you have $2-10 to spare - share it.